Maine – Rally for Our Rights
April 3 @ 8:00 am

-

12:00 pm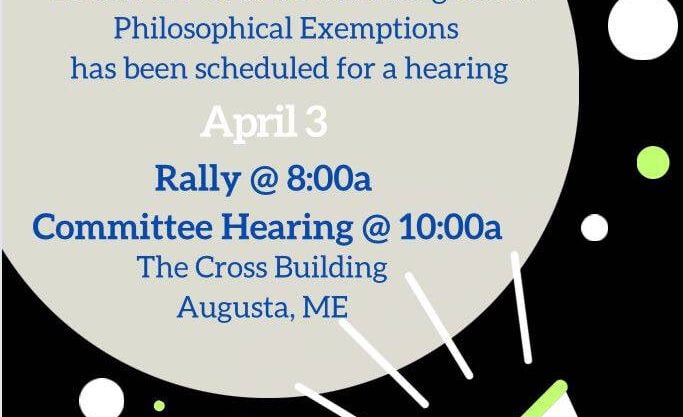 Help Restore Vaccine Exemptions in Maine!
MONDAY APRIL 3 – AUGUSTA
PLEASE ATTEND Rally on the steps of the Maine State House (8 – 9:30 am)
PLEASE ATTEND Hearing in Education & Cultural Affairs Committee (10 am)
IF YOU CANNOT ATTEND IN PERSON, Submit testimony via zoom, here
A few years ago, Maine law was altered – to deny students, parents and employees the right to opt out of one or dozens of 'recommended' vaccines.
This coming Monday, April 3rd in Augusta a hearing will take place in an effort to Restore Vaccine Exemptions in Maine.
Health Choice Maine will be holding a rally at 8 am at the State House in Augusta at on April 3rd and they encourage everyone to: 1) Submit written testimony 2) Spread the news about the rally and hearing 3) Attend the rally 4) Submit oral testimony during the hearing. Get more information here.