1 event,
Bills: Please Take Action Today
Please get ready for tomorrows hearings -- SIGN-IN & SEND EMAILS: https://hfnh.org/event/march1st_legislation/
1 event,
NH House Committee Hearings
1 -- SIGN-IN FOR ALL 11 BILLS 2 -- EMAIL COMMITTEE (each bill separately) 3 -- OPTIONAL: find livestream HCR2 Terminating state of emergency SUPPORT HB439 Powers of city councils SUPPORT HB493 Criminal penalty for failure to mask or vaccinate OPPOSE HB277 Termination of SOE by legislature SUPPORT HB280 Termination of an emergency order SUPPORT HB559 State of emergency declarations SUPPORT HB389 Joint legislative emergency order oversight SUPPORT HB275 Governor's […]
1 event,
Register for this zoom: Meeting Registration After registering, you will receive a confirmation email containing information about joining the webinar. This link is SPECIFIC to the person registering; sharing this link with someone else will not work. If you have any issues logging in on the day of the meeting, please email info@nhvaccine.org or call […]
2 events,
Connolly Brothers Farm 140 Webster Hwy Temple Hi everyone! Something family friendly for tomorrow morning in Temple, NH: The governor is going to be at Connolly's Dairy Farm tomorrow morning. Connolly's was selected by the Governor to celebrate the 75th year of conservation in NH due to their many conservation projects and to kick off […]
Health Freedom members and friends got together for a great evening in Manchester. Our meet-ups are enjoyed by all. They're a chance to get together with like-minded individuals. We're building a community and getting more people to get active in projects across the state.
1 event,
Rise-up NH:  For our Monday Zoom meeting, we'll be offering a webinar covering what is known so far about the reported injuries and potential dangers of the so-called vaccines for COVID. Our aim to to share this more widely to help counteract the massive propaganda campaigns and get more folks to stop and think before […]
1 event,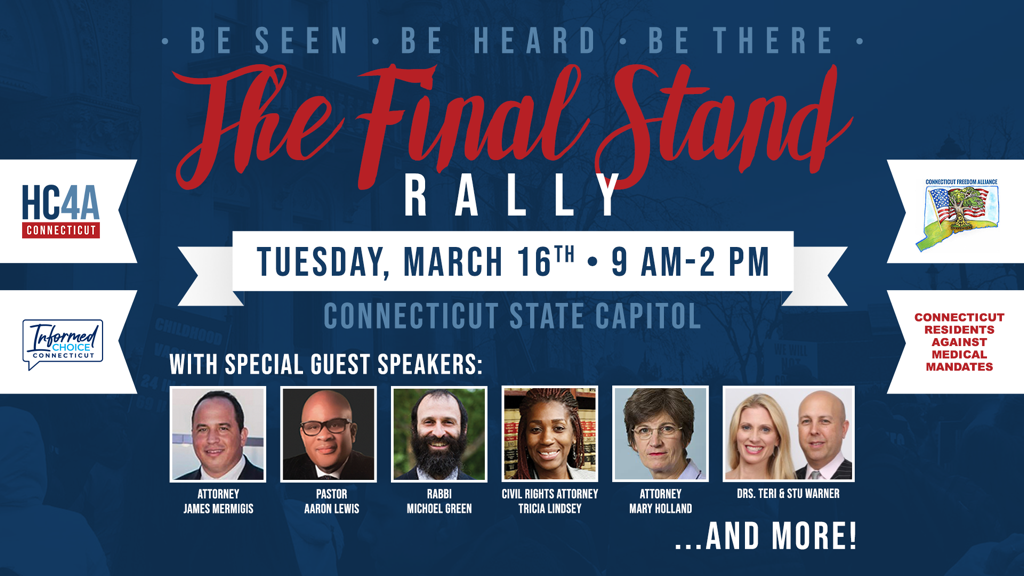 BE SEEN - BE HEARD - BE THERE New Hampshire Freedom Fighters please join the fight in Connecticut on March 16 to protect choice and our religious exemption. A win for one is a win for all in the fight for medical freedom. March 16 is the one day this legislative session that the State […]